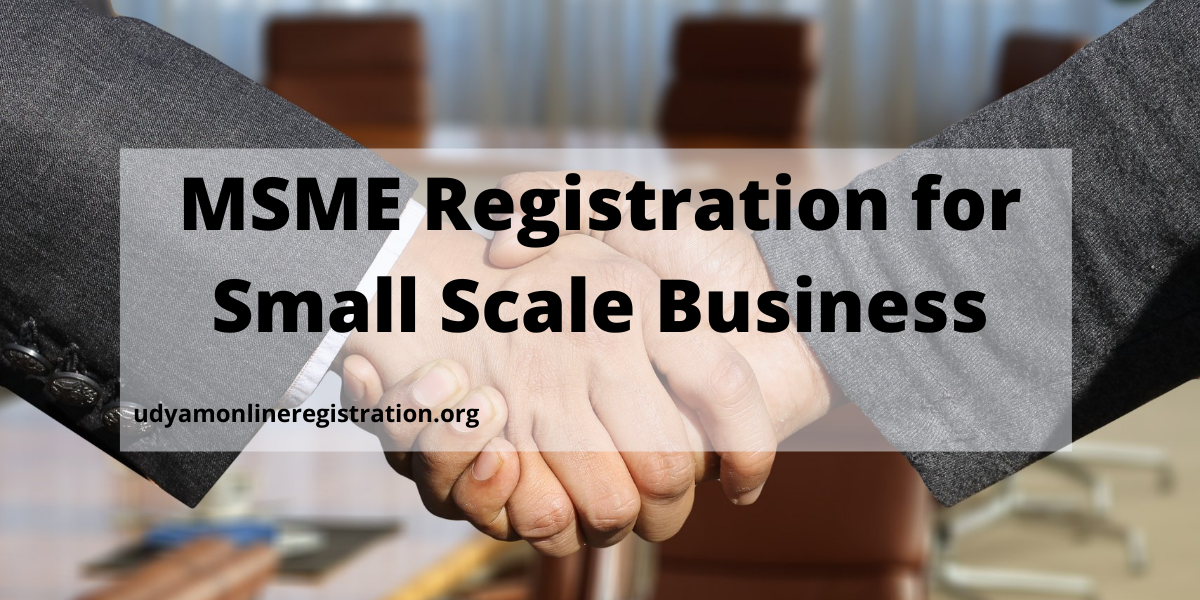 MSME Registration for Small Scale Business
MSME is the backbone of the country. It helps and contributes to the socio-economic development of the country. MSME stands for Micro, Small, and Medium Enterprise. The micro small medium enterprises cover 95% (ninety-five percent) of the Indian industry, 50% (fifty percent) of goods exports and imports, and 45% (forty-five percent) of employment as per the MSME government.

It's not mandatory for MSME registration, however getting an MSME registration certificate will help to get benefits of Micro, Small, and Medium Schemes and reforms.

MSMEs are governed by the Ministry of Micro, Small & Medium Enterprises in India and are also required to be registered under the MSMED or Micro, Small and Medium Enterprises Development Act, 2006.

MSME Registration is very important, as it allows the enterprises to avail benefits from the various schemes initiated by the government.

The MSMED or Micro, Small, and Medium Enterprises Development Act of 2006, enterprises are classified into two types which are as follows:

Manufacturing Enterprises are the enterprises that are engaged in the production or manufacturing of goods or products in the industry.

Service Enterprises are enterprises that are engaged in rendering or providing services.

MSME started operating in the year 2006 to create a competitive environment and encourage small businesses to ensure speedy development and boost the economy.

The MSMEs are categorized into manufacturing units and service units.

The classification has recently been updated based on investment and annual turnover to create a greater scope of growth for the MSMEs.

Below is the reset classification of the micro, small, and medium enterprises.


| Enterprise | Turnover | Investment |
| --- | --- | --- |
| Micro | Not more than 5 Cr. | Not more than 1 Cr. |
| Small | Not more than 50 Cr. | Not more than 10 Cr. |
| Medium | Not more than 250 Cr. | Not more than 50 Cr. |

Different expenditure caps were allocated to industrial sectors and service sectors in the earlier grouping. The overall spending cap for the production sector was higher than for the service sector.

In the current grouping, however, the former variations have been eliminated. The classification given in the table above is for the manufacturing and service sectors, respectively.


MSME Registration Benefits
The broad-ranging advantages are the reason why MSME registration is appealing. Here are the registration bonuses for MSME from the Government of India.

Bank loans will be made available to MSME registered companies at lower interest rates than normal loans. Loans can be used at an interest rate as low as 1% to 1.5%.

Under the MSME Act, MSME certificate holders can enjoy a tax exemption.

The MAT or minimum alternative tax may be extended from the usual 10 years to 15 years.

The priority for government-issued licenses and certificates is granted to MSME registered firms.

After being licensed under MSME, thanks to separate rebates and discounts, the expense of patenting and market set-up decrease.

Only MSME registered companies are awarded several government tenders.

An MSME gets quick credit entry.


Documents Required for MSME Registration
Aadhaar card number
PAN card Number
GSTIN
Udyam Registration Process
STEP 1: Visit the Udyam Registration portal.

STEP 2: Fill in all the details on the registration form for Udyam certificate. Ensure that all the details are entered correctly.

STEP 3: For your Udyam Registration process, make an online payment.

STEP 4: Your Udyam Registration process is handled by one of the representative officials.

STEP 5: You will receive your Udyam registration certificate at your registered email address within 1-2 working hours.
Who we are - udyamonlineregistration.org?
We are a private consultant providing business registration and certification processes under the MSME. We can easily register your business under the Ministry of MSME.

We will charge you a fee for MSME registration as a service fee. But the amount which will be charged by us is almost nothing when you compare with the other contemporary organizations.

You will realize once you go through every detail of the registration process and how simple it will be for you to get your registration done through us. The process is so hectic that it is better to be done by a group of individuals who are experts in this field.

The MSME registration process for the MSME sector is always important for a company like India. It is better to hire us for registration and spend a small fee for registration and get it done to enjoy the benefits of MSME registration.

Follow us on Facebook for latest new and updates on MSME.
Apply For Udyam Registration
MSME Registration for business
MSME Registration for Small Scale Business
Govt Considering Giving MSME Status to Dealers, Says Gadkari
Benefits of Udyam Registration For Business In India
Udyam Registration Benefits of Udyam Registration